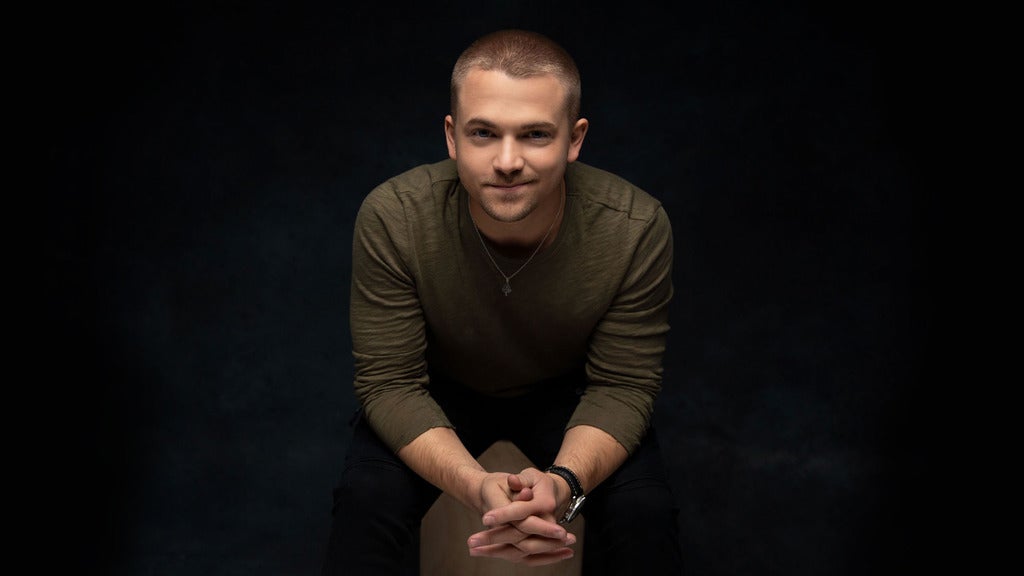 Hunter Hayes with Special Guest: Frawley
ABOUT THIS EVENT
Doors: 7pm
Show: 8pm
ALL AGES
Not so long ago, Hunter Hayes let go. Of the expectations. Of the pressure. Of the necessity to follow a specific formula for his career. A five-time Grammy-nominated multi-instrumentalist and the youngest male act ever to top the Billboard Hot Country song chart, Hayes was ready to lean into a mindset he'd always carried with him: that genres are fluid, and, in his eyes, the best musicians are the ones able to play with all sorts of sounds and styles.
"All of my favorite artists are the ones who went about their career making their own rules," says Hayes, a rare and highly respected talent with a knack for authentic songwriting and for forging a true connection with his fans. "I knew then I had to tap into whatever's been put on my creative heart. Let's start there." Following a decade of playing by the rules and sticking to country music conventions, Hayes is, at last, doubling down on his ever-searching musical mindset: throwing genre conventions out the window, playing with "all the sounds" he's influenced by, and, most importantly, trusting himself in his quest to lean into his pop and alternative rock influences. Or, in other words, as Hayes succinctly puts it: "I'm creating my own rules to play by so I don't have to play by anyone else's."
It's this new no-holds-barred mindset that's resulted in some of Hayes' most inspired music yet. On his forthcoming new album, Red Sky, the singer-songwriter is executing at the highest level of his musical career: crafting memorable melodies and instantly catchy hooks albeit with a top-notch musician's discerning ear. "It was a completely different way of thinking," Hayes says excitedly of his approach to the new LP and, for that matter, his career moving forward. "I've gone from being plugged into the system to building my own system."
The 31-year-old Hayes, who says he wants every one of his albums to feel like a different era, has always been one to buck conventions. It's hardly a surprise then to hear the Breaux Bridge, Louisiana native speak so candidly about his desire — no, need — to take ownership of his career and music. Signed to a record deal at age 18, "there was this understanding that I had no idea what I was doing and needed to learn the proper way," he explains looking back. "So yeah, I wanted to believe there was one right way to do everything — producing, song selections, putting things out to radio, touring, etc. This created this odd environment where I listened to myself less than I should have.
"I started mentally making a note of all the things I felt weren't right and what would I do instead," Hayes continues. "And after a while, I realized there'd always been this desire to create my own corner. And not just copy and paste what was working."
This norm-defying mentality — of no longer sticking to the script and instead letting his musical sensibility guide him — goes a long way in explaining why Hayes says he's never been happier or more engaged with the music he's creating. And it shows in the boundary-pushing songs he's set to release: from the upbeat pop of "Sober" to the harmony-drenched "Feelings" to the chant-along chorus on lead single "Missing You."
"It was my first time in 10 years of songwriting sessions where anything could happen," Hayes says excitedly of the risk-taking meetups with some of his most trusted collaborators.
The result? Career-defining songs. "There was so much experimenting," he adds noting how refreshing this was from his previous experience. "It was beautiful."
In an effort to expand beyond his country past, Hayes enlisted a team of respected pop maestros for his new project: he tapped a crew of talented pop songwriters to help him craft bold new tunes. The quote-worthy "Missing You," ("Some roads take you nowhere/some roads take you back/but the closest to heaven was on Highway 27/I've never been lost like that"), Hayes, says, is the culmination of two years of discerning what Red Sky would look like." Written with Kevin Griffin (Taylor Swift, Train, Patrick Droney) and Dan Book (Britney Spears, All Time Low), and with its intricately crafted verses and shout-to-the-heavens hook, it's readily apparent Hayes zeroed in on his genre-crossing musical mindset for the song. On "Sober," Hayes teamed up with Rollo (Ava Max, Noah Cyrus, BTS), Alex Delicata (Beyoncé, OneRepublic) and Aaron Zuckerman (Alec Benjamin, LANY) to create a genre-bending song that combines his musicality with both modern and retro production.
According to Hayes, it's years of pent-up energy and receiving constant pushback when he'd take major musical risks that are now leading him to craft such inspired music. "Because it's all stuff I'd wanted to do previously," he admits. "My demos have always been really weird, and I've always stripped them down to make them more palatable. So I was constantly between a rock and a hard place of writing too safe of songs and pushing the boundaries. I don't think I would be making this type of music had I not been holding off on doing so for so long."
The reaction from those around him has been nothing short of resounding: when he's played his new music to longtime friends, "they've all been like 'Where has this been?!' he recalls with a laugh. What Hayes realized then is he needed to steer his own ship. Do it for himself. Not for anyone else: "I don't need to be the architect of someone else's house. I need to hang all the art on the wall and invite people in."
And to that end, the only people other than himself he needed to answer to were his forever-dedicated fans. "Why was I trying to please anyone other than the people who buy tickets to my show? Because every time I've done something gutsy they've gotten it," he says referencing as an example his 2019 LP, the fan-favorite Wild Blue, which he played in full at a recent, exhilarating live show.
Live shows, it turns out, have never been more essential to Hayes' happiness. Following a hiatus from gigs during the pandemic, the adrenaline junkie of a live performer says he's never been more exhilarated to hit the stage on a consistent basis. "I realized that I can't live without playing live shows. There's so much I get from it. It's not even validation. It's life-giving," he says. "It's everything that I love in one place."
Where he heads next is, Hayes, as exciting a prospect as the freedom he now enjoys in his music and career. "Because there's been so much personal growth lately," he says proudly. "This is definitely the clearest I've ever been."
The Regent Theater is located in DTLA at 448 S Main Street. The Regent is a cashless venue. For any ADA accommodations, please contact
[email protected]
---
---