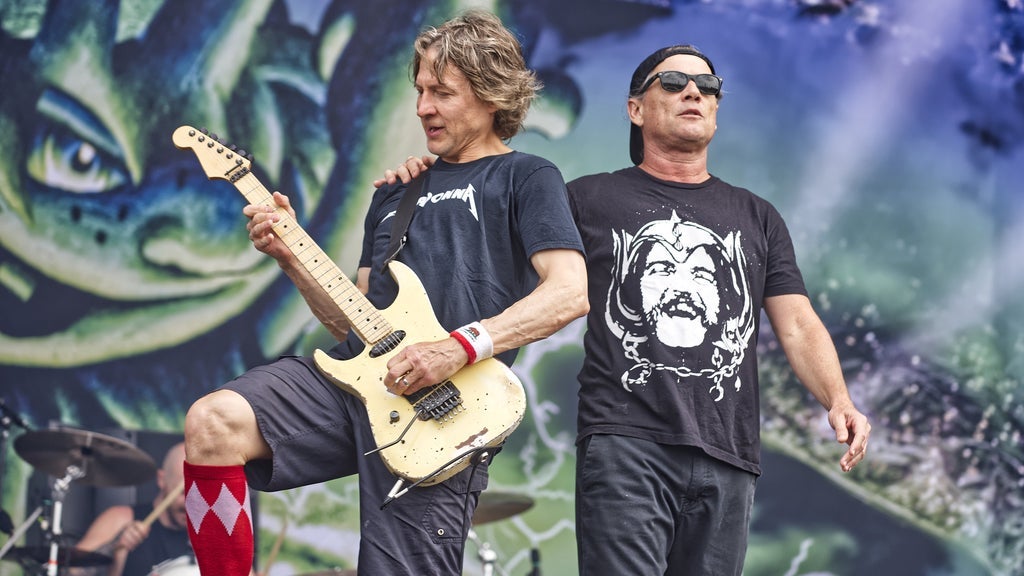 Ugly Kid Joe With Special Guests: Fozzy, Pistols At Dawn
ABOUT THIS EVENT
Doors: 6:45pm
Show: 7:45pm
ALL AGES
A fun-loving hard rock/funk/alt-metal group from Southern California, Ugly Kid Joe found mainstream success in the early '90s with the double-platinum selling efforts As Ugly as They Wanna Be and America's Least Wanted. The band ceased operations in 1997 but re-formed in 2010 and released Uglier Than They Used ta Be in 2015. Seven years would pass before the arrival of the group's fifth full-length effort, 2022's raucous Rad Wings of Destiny.
Ugly Kid Joe (a spoof on glam-metal outfit Pretty Boy Floyd) formed in 1989 around vocalist Whitfield Crane, guitarists Klaus Eichstadt and Dave Fortman, bassist Cordell Crockett, and drummer Mark Davis. The group's knack for crafting infectious pop-metal with touches of funk and a bratty, parodic sense of humor was evident on their debut single, "Everything About You," which went Top Ten and helped their EP As Ugly as They Wanna Be become the first short-form LP ever to be certified multi-platinum. They went Top Ten again with a straightforward cover of Harry Chapin's "Cats in the Cradle," which appeared on 1992's platinum-selling full-length effort, America's Least Wanted. The band released its second full-length album, Menace to Sobriety, in 1995, followed by Motel California the following year.
Motel California turned out to be Ugly Kid Joe's last album for a major label. They split in 1997, a year after its release, and over the next decade the bandmembers played in various post-alt metal bands. As the first decade of the new millennium came to a close, there were rumblings of new Ugly Kid Joe activity, rumors that came true in 2010 when the group reconvened for a tour. Recording soon followed and the fruits of UKJ's labor was Stairway to Hell, an EP that appeared in the summer of 2012 and was later expanded to a full-length with various oddities; the longer Stairway to Hell showed up in 2013. In 2015 the band released its long-awaited fourth studio album of all new material (the group's first in 19 years), the crowd-funded Uglier Than They Used ta Be. A seven year gap preceded the arrival of the band's fifth long-player, 2022's Rad Wings of Destiny, which saw UKJ teaming back up with America's Least Wanted producer Mark Dodson.
The Regent Theater is located in DTLA at 448 S Main Street. The Regent is a cashless venue. For any ADA requests, please contact
[email protected]
---
Artists
Social Links
---
---
Social Links
---
---